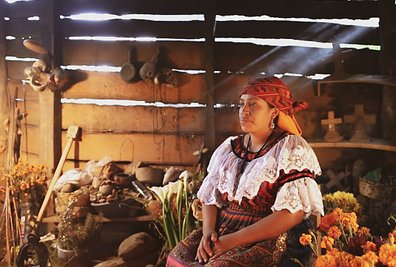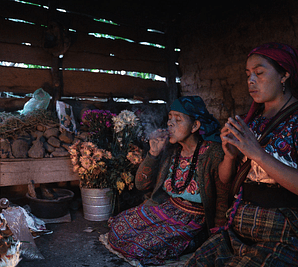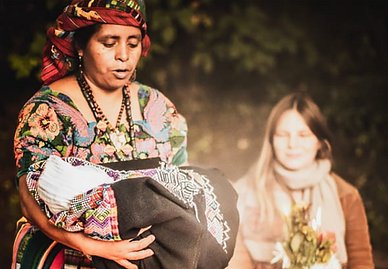 An intro to the world of Maya Midwifery
November 22nd-27th 2023, San Marcos la Laguna
We welcome you to join us for a 5-day immersion into the sacred ancestral practices of Maya midwifery. These days you can expect to be introduced to the Mayan cosmovision and spirituality that is at the very core of the work of these women. We will explore a variation of traditional womb healing practices, pregnancy and postpartum care, traditional cures for babies and herbal medicines. All while being surrounded by souls on similar paths of life, who follow/explore their calling of midwifery and birthwork. Let's nourish our souls, deepen our own healing and delve into the ancient art of midwifery, as embodied by our Mayan guides and teachers.

*Note: this retreat is not a course in Maya midwifery, nor provides certifications or qualifications, as at the basis of the work of midwifery, is ones Connection, which can only be explored within. Our intention is to create a space of Re-membrance, an awakening of the intuition and recognition of the sacredness of birthing practices. Re-igniting those sparks of passion as each continues to walk their authentic path. Fully nourished and inspired by the guidance of the Nanas, finding that space of deep connection within ourselves.
N
What's included.. what's not?
Our pricing includes:
- 5 nights of lodging from November 22nd until November 27th
- 3 nourishing vegetarian meals, starting with lunch on day 1, ending with breakfast on the 27th
- 1 Mayan abdominal massage
- the full program: fire ceremonies, temazcales, wisdom shares and storytelling with the midwives (amongst others..!)
- a donation to The Midwife Project: sponsoring a local midwife to join the upcoming 6-month Empowerment through Education program in 2024

Not included in the price:
- extra 1:1 healing sessions/readings with the Nanas (depending on availability during the week)
- transportation to and from Lake Atitlán (no worries though.. we will send you instructions to ease your way out of Airport Guatemala City)
- an extra night at Sacha Retreat Center one night before and/or after the end of the retreat (ask us about possibilities and pricing)




- Single Bed in 4-bed room: $1677 (basic) or $1722 (abundant)
- Single Bed in 2-bed room: $1744 (basic) or $1799 (abundant)
- *Queen Bed in private room: $1866 (basic) or $1911 (abundant)
*ideal for mother with child/baby
The basic pricing option is the minimum we ask from you. If you feel to share abundantly, we will directly dedicate this money to let a young local Mayan midwife be with us these days, covering her costs. All remains will be an extra donation to The Midwife Project and helps sponsor a new group of (young) Maya midwives to partake in our upcoming Empowerment through Education program in 2014.
If the basic price option is beyond your capacity, we have some ideas on how to make this retreat for you happen anyways! We believe in community support, as well as achieving our dreams and fulfilling those sacred callings when they arrive. Have you thought of organizing a fundraiser for your journey? We are happy to send you materials to start a mini fundraiser for your journey to Guatemala, helping you cover some of your costs.
We believe in the calling and in our dreams as (aspiring) birthworkers... Do you feel it to? We await you at Lake Atitlan..
We are grateful to be with the guidance of powerful women from an unbroken lineage of traditional midwives and Maya medicine practicioners. during the retreat. They will be the main facilitators to guide you into this journey, helping us deepen our own connection, re-membering that this is our first focus in birthwork.
Nana Rosalia will be with us as the elder midwife, along with her daughters Reina, Ixquik and Nicte who are all Mayan spiritual guides, traditional healers and midwives from birth - all born with their own unique gifts, following the footsteps of their mother.

Apart from the midwives presence, there will be at least one extra space holder/supporter and translator on site each day during the retreat.

AnA
We selected a beautiful location for us to be nourished and comfortable during these days: Sacha Retreat Center, in the valley of San Marcos la Laguna. A calm and gorgeously lush area. We will have access to a beautiful indoor temple space, temazcal, and outdoor firepit for our fire ceremonies. The bathroom facilities are shared and a few steps away from the sleeping spaces.